56 smartphones in a calendar year. Now that's volume if I've ever heard it in the smartphone industry. The question is, is it too much? Well, it looks like Samsung has decided that it is.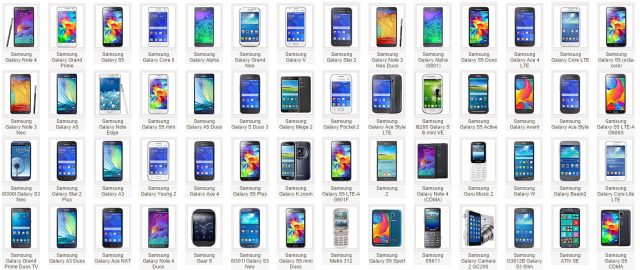 Samsung will look to streamline its range of devices come 2015, reducing the number down by 25% to 30%. Samsung has always prided itself on its variety of devices, catering to customers from all walks of life. To put things in perspective, no competitor came near to Samsung's output of 56 devices a year, with the closest competitions being LG with 41 and HTC with 27. In fact, reducing their lineup by a third will still leave them ahead of LG and should not affect them significantly.
The decision to cut the numbers must not have been an easy one. Looking back on 2014, Samsung did have a rather dismal year financially. Last quarter, the Korean mobile giant watched its profits drop a staggering 49%, raising more than a few alarms. The major reason for this is the large amount of competition coming in areas that were deemed Samsung territory. This primarily stemmed from the rise of China OEM's such as XiaoMi and Huawei dominating the low-end market with their cheaper  devices.
The challenge for Samsung now is how to streamline their lineup to cater to the markets needs in the most efficient manner. The first step would definitely be reducing their low to mid-range devices. Although it is Samsung's bread and butter, there were too many devices in this category that are too similar to one another, and it is worse as these devices do not exactly grab headlines. They could take a pointer from Motorola and the success of their Moto G going forward. Also, Samsung could use some streamlining in their high-end range too. The Active editions of their Galaxy S flagships seem to be catering to a niche market and may be cut. Sadly thought, this also means that projects such as the Galaxy Note Edge and curved screen devices may be delayed for a while.
Being a giant in the smartphone industry that Samsung is, there should not be much difficulty in streamlining their device lineup. Although, they may need a flash of inspiration to be able to make a splash in the highly competitive smartphone market come 2015.
Sources: Android Authority, Pocketnow, Ars Technica