CES 2015 is in full swing as we another leader in the tech industry takes center stage. SoC-manufacturer Qualcomm unveiled their latest work, leading with the intriguing question "Why wait to solve the world's biggest challenges?". On stage was president Derek Aberle to walk the attendees through the host of innovations Qualcomm has laid out for 2015 and beyond.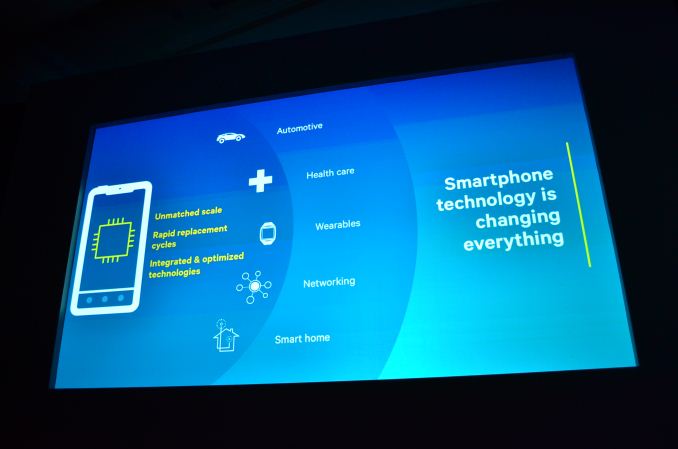 He opened with Qualcomm's commitment to R&D, with the tech giants having committed close to $33 billion since its inception. This has lead to some major innovations in connectivity, chiefly the pioneering of CDMA, which is today's standard for 3G. In fact, the SoC manufacturer is once again looking to be a pioneer by investing in LTE-U, a new wireless communication standard that utilizes unlicensed spectrum as a supplementary data channels. It is believed that the new tech will use unlicensed spectrum more efficiently and will coexist with WiFi. Looking at things in the nearer future, Qualcomm will be shipping out their 5th generation of 9×45 modems, complete with Category 10 LTE support some time this year, bringing download speeds of up to 450Mbps to mobile devices. Another connectivity innovation this year is the introduction of WiFi Multi-User MIMO. This service allows multiple users to connect to a single access point while having a greater 802.11 ac performance.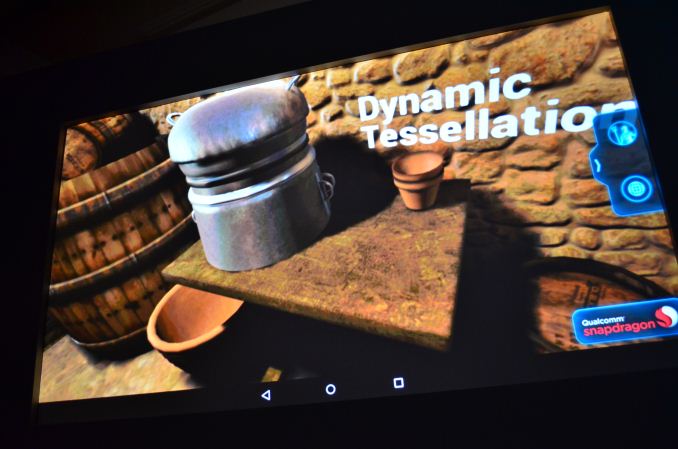 The focus then moves on to the crown jewel of 2015, the Snapdragon 810. Before beginning, Derek Aberle mentioned that to be successful at the pinnacle of SoC manufacturing, Qualcomm needs to be "…bringing a system together where (they) lead in multitude of different areas…", and that is exactly what the Snapdragon 810 epitomizes. With the Adreno 430 GPU in tow, Qualcomm has claimed 30% better performance for 20% less power in the new premier SoC. The real headline grabber came when he actually demonstrated streaming 4k resolution video over LTE, truly demonstrating the superiority of the Snapdragon 810. The Unreal Engine was run on the 810 with help from Epic, and the beauty of the demo was captured on a 4k display, displaying features such as dynamic tessellation and HDR rendering. We are essentially looking at PC-level graphic performance on mobile devices, something that would have been considered impossible not too long ago.
The next topic of discussion was the speed at which tech moves these days, with 30% of all mobile devices replaced last year, reflecting the high turnover rate. What this means is that new tech are brought to the market faster and Qualcomm views this as an opportunity to further innovate mobile devices. We are no longer talking about smartphones and tablets, but of course, the Internet of Things (IoT). Qualcomm is serious about doing IoT and they look to start off with the automotive industry. We are looking at Snapdragon-powered concept cars! Apart from the standard smartphone integration, Qualcomm has mentioned features such as 4G LTE support, WiFi hotspots, enhanced safety features and even personalization. So far, three concept cars have been mentioned; 2015 Cadillac XTS, 2015 Maserati Quattroporte GTS, 2014 Honda Accord PHEV.
Qualcomm is also looking to add to innovations in connected health. They have been an active contributor of new tech to the healthcare industry for the past 10 years, generating an ecosystem of over 500 partners since then. The innovation this time around is remote monitoring of patients done through the new 2net platform. This HIPA compliant platform will allow for the monitoring of health by doctors through the use of wearables. So far, Qualcomm has teamed up with two collaborators, Walgreens and Novartis, to help drive connected health through 2net. Walgreens are launching new blood pressure and blood sugar meters which runs a 2net-powered app to share these information. Novartis will use 2net to monitor their patients remotely during clinical trials, removing the need for patient visits. In both cases, the goal is to reduce the cost of monitoring health.
The final topic of the day was the smart home, a relatively new entry to Qualcomm's stellar portfolio. The AllSeen Alliance was launched last year as a Qualcomm initiative, being an open source project to create interoperability for the internet of things and today has more 100 companies involved in it including Sony and LG. The results include an intelligent lighting platform called LIFX and an audio platform dubbed AllPlay that allows devices to utilize wireless speakers.
Qualcomm has once again showed their dedication to being a pioneer and market leader in mobile devices, with no signs of slowing down anytime soon.
Sources: Android Central, AnandTech