World Wide Developers Conference 2014 came and passed. So what else other than the iOS 8 that is announced? Apple wouldn't forget their own OS X would they? Nope they didn't. In fact they have just updated their OS X again. The Apple OS X (version 10.10) is now called the Yosemite; an homage to one of United States' national park. So what's the difference between the Yosemite and it's predecessor, the Maverick (version 10.9)? Aside from major visual changes, there are a few other features that made Yosemite really shine compared to Maverick. Let's talk about the visual changes of the Yosemite over the predecessors. It's flatter, leaner and made to look and work more like an iOS than the previous OS X versions. It's visually less complex and that just means that it is a lot simpler to look at and to use. So that's that on the visual side. But delving deeper into the OS lies one feature that is in reality a small change but could change the feel of the desktop operating system; that is translucency. But of course that isn't the only new feature we have on this thing. More after the break.
Nice, you can see through the apps
Yes, yes, yes this is actually a visual change, but it is a feature as well. Apple decides not to just do away with the silly 3D graphics that you get when you open windows or applications on your desktop. Good move? We think so, the 3D effects makes it look comical anyway. So the windows are now just a simple flat window. Except that it is not just a flat window; it's translucent. It seems minute and unimportant, and that is because it is a very minute detail that we tend to take for granted. Remember how Windows' task bar starts getting translucent in the Windows 7 and how we think that was cool? It comes in the same manner here but except that we can see, albeit barely, the background of our desktop. It doesn't only add the cool factor to it but it somehow made it more personal and easier on the eyes. It looks futuristic. It looks just right. It makes you feel "in place". The Apple OS X Yosemite is meant to bring you closer to your computer, it makes the computer feels more organic, it's more personal.
Hey look, there's a new Notification
The Notification Centre in our smartphones are probably the part of the Operating System that we most utilise. We see updates on activities that we get everyday; be it from Facebook, Twitter, Calendar, Messaging, or Missed Calls. With the OS X you can now have a similar notification centre to your iOS. You even get a 'Today View' which just feeds users with plenty more relevant information. The best part is Apple allows you to customise the information that is fed to you with widgets. You can customise it in such a way that only information that interest you or relevant to you pops up in the Today pane of the notification.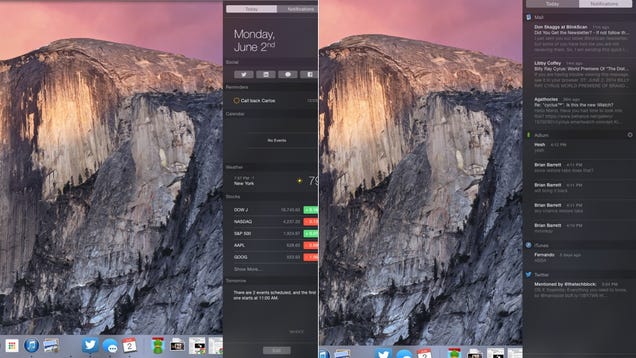 Spotlight, get me a drink
Anyone familiar with Alfred, the Mac OS application that is almost like your desktop butler? Yes Alfred works pretty much for you when you need to search applications installed in the computer, search the web, link apps, schedule activities, see your clipboard, look up your contacts, keep your passwords, syncing your apps and much more. That is what Spotlight basically is in the OS X. But where Alfred is a third party application you can get on your OS X, the Spotlight is a built in feature for the OS X which saves you the trouble of installing a third party application. Plus with Spotlight built in, Apple can have a part in developing the app together with Alfred's developers anyway which would ultimately benefit users.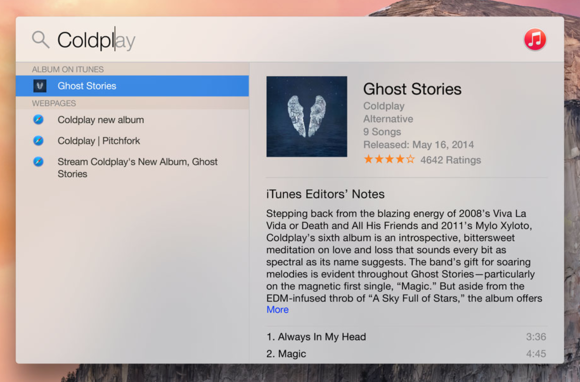 You've got Mail
Apple's mail application has not been the best in its business but so far it served its purposed. In the OS X Yosemite though it is improved to be able to handle larger attachments by sending recipient a link that they can use to download the attachment. In addition to that Apple made it easier for users of the mail app to interact and work around PDF formatted files and images. The User Interface (UI) itself, like all the rest looks more flat and simpler to work with.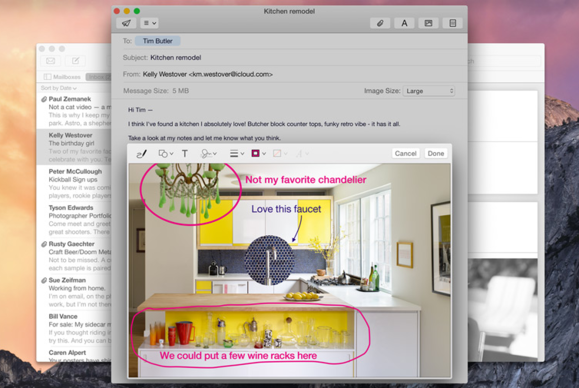 Safari
The Safari browser has always been a hit or miss thing with users. Most users prefer to use Firefox or Chrome nowadays due to how simple these two browsers are. It doesn't take much to run them either. This time though Safari has gone through some thorough changes. It is leaner and looks more minimalistic. Apple claims that it is a lot faster than before too with speed up to 6x compared to Firefox and Chrome when it comes to loading JavaScript. But with speed comes higher usage and plenty of tabs to manage at one go. Apple managed to implement a card like layout to view all the active tabs in Safari.
Continuity, a synchronisation story
We all always talk about how we would pair and sync the computer and the smartphone. Something we imagined could happen with Windows Phone 8 and Windows 8. Instead to link both devices it is not as straightforward as it sounds and there are a certain limitations on what you can do with both devices connected. In OS X Yosemite your PC is now more connected with your iOS than ever. How? There is now something called the AirDrop. What it does is basically allowing you to do your work on the Mac and continue it on your iOS if necessary and vice versa. Another cool feature is that you can easily pair your iOS with the OS X Yosemite. Through this pairing the Mac you are using will be able to see and reply SMS, and make phone calls using your mac through your phone. To add with mobility Apple added the iCloud Drive service built into the OS X Yosemite. The Apple iCloud Drive service is much like DropBox, Google Drive, and Microsoft's OneDrive; their all cloud drives. Apple would be giving you a certain amount for free on the iCloud Drive but you would have to pay more for a larger cloud storage.
According to Apple the OS X Yosemite would be available to the public around fall (between 3rd and 4th quarter) on devices that can support no less than OS X 10.8. The Beta version is soon to be available to users and developers who are interested to try out the platform though.
Source: Techno Buffalo (1)(2), Ars Technica (1)(2), Tech Crunch, Alfred