Just days prior to its anticipated event on the 13th of May in both India and London, Motorola Mobility seems to have sprung multiple leaks both on it's own website and also on social media.The first leak came on 4th when the Moto X+1 was leaked on the MotoMaker website. Apparently, this hole wasn't very well plugged, the same phone was leaked again on the website with it's sub $400 price tag and a tie with US based carrier AT&T. A rundown of the specifications of the Moto X+1 can be found on our post covering the initial leak.
Source: DroidLife
The MotoG Cinema then leaked rather unceremoniously on the Motorola website a matter of days after with no further details and was removed moments later as if it was never there. Speculated specifications surrounding the name include better camera and screen.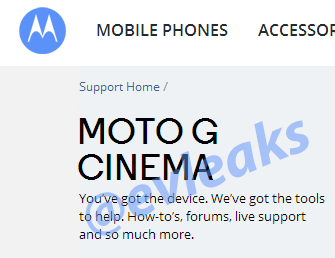 This was further rumored today, when  a leak of potential MotoG  variants: MotoG 4G, MotoG 3G 4GB, and MotoG Cinema. The MotoG 4G seems to have gone legit with an unintentional leak
on Motorola's website similar to the Moto X+1 with a price of USD189 off contract in the US making the expected price in Malaysia to be about RM650. Specifications surrounding this variant are that it will come with the same specification as the current MotoG: Snapdragon 400 Quad Core Processor with 1GB RAM and 8GB Internal Memory as well as a 4.5inch 720p screen but with a 4G antenna.
Another variant of the widely successful MotoG that was leaked is the MotoG 3G 4GB which is speculated to have the same specifications above with a reduced memory capacity. It's also important to note that the current MotoG does not come with microSD expansion.
The widely anticipated MotoE leaked as wel as depicted above side by side with the current MotoGl. The phone is speculated to have a more compelling price tag than the already affordable MotoG which retails for about RM700 in the local market with the price tag of about RM 400, if not less.
With these numerous leaks coming out of Motorola's own website, it's hard not to speculate that the company is unabashedly teasing us for its upcoming even just three days down the road. We'll just have to wait and see what the Lenovo owned company has up it proverbial sleeves.
Source: DroidLife, TechnoBuffalo, PocketNow