Samsung has been rumored to be working on themes for their TouchWiz user interface and now we have an idea of what they may look like.
Personalization, is a key aspect of owning a smartphone today, especially since most devices look virtually identical to one another these days. Hence, there is always a demand for methods to do so, whether it is custom designed covers or custom themes for you Android device. Some OEM's have taken the hint and provided customization options for the UI of their devices. One OEM however that did not take the hint was Samsung. Let's be fair, TouchWiz isn't the most appealing UI out there (my opinion, at the very least) and Samsung users tend to look elsewhere for custom themes, usually by getting third party launchers. Being one of the forerunners in the smartphone market, it is surprising that Samsung did not address this issue sooner.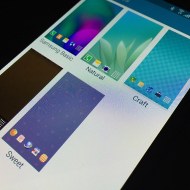 For those who are bored of your TouchWiz interface, a fresh look will be coming to your device along with Android 5.0 Lollipop. The screenshot above shows five options of themes available for the new TouchWiz UI. All of these themes come with their own wallpaper and unique icons. If that has not piqued your interest, here is a video demonstrating the new themes on the Galaxy A3.
It seems that Samsung has finally listened to the pleas of its customer base and we can't wait to try these new themes out once Android 5.0 rolls out.
Sources: GSMArena, Lowyat.net