Apple's annual Worldwide developer's Conference is under way in San Francisco but the Keynote Presentation held earlier today morning brings with it a slew of announcements, none more anticipated than the refresh of iOS with iOS 8. As is their yearly tradition, the keynote began with CEO, Tim Cook, lauding the successes of the company. Then came what everyone was waiting for, the big announcement of iOS 8. Briefly, the new refresh brings a slew of new features, including third party widgets, third party access to TouchID and information sharing between apps and the new Health application.
iOS 8 New Features
iOS 8 takes a few bold steps in the right direction, mainly addressing a lot of the criticism the platform has taken over the years. The company's decision to include many of these features can either be seen as it caving into the competition or as the much needed response to requests coming from the user base itself.  Let's take a more in depth look at some of the new features.
Active Notifications & Widgets in Notification Centre
Notifications on iOS have been static since it's conception with the drop down notification center which can be accessed by swiping from the top of the screen. Apple is looking to change that in iOS 8 with Active Notifications. This feature allows the user to respond to text messages, add calendar events etc. directly from the notification center without needing to launch the application.   In addition to this,  Apple also said that they will be opening up the notification center to support third party widgets which will enable developers to develop and make available new widgets which will provide even more functionality to the notification centre.
This addresses one of the long time critiques that Apple's operating system-  the lack of widgets, a staple feature on Android which helps increase productivity by making mini-versions of programs to run and display some of its relevant information to you.
Keyboard Enhancements
Along with thenotification enhancements in iOS 8, Apple also announced that there will be increased functionality with the new iOS 8 keyboard. The first enhancement comes in the form of  "Quick Type". QuickType is an enhancement which brings contextual word prediction to the iOS platform and allows users to type faster by using word suggestions which will change over time learning the users preferences similar to SwiftKey, an alternative keyboard available on the Android operating system. In addition to this enhancement, Apple also announced that they would be opening up iOS 8 and supporting third party keyboards like SwiftKey and Swype.
Family Sharing
iOS 8 also brings along with it a new feature which allows family members who share a credit card to share content such as apps, games, video, ebooks and more. The sharing is limited to six family members though.  The feature also brings with it a parental control setting which allows parents to track and control any purchases made through the AppStore on a linked device addressing a recent legal issue in which Apple settled. The Family Sharing Feature also brings with it the ability to share photostreams, calendars, photos and reminders among family members. In addition to all these enhancements, parents have the option of using the iPhone to track their kids or significant other – with permission of course.
All Things Sync'd to the Cloud
Another major feature upgrade which iOS 8 will bring is the instantaneous backing up of your precious photos and files to iCloud. This feature was initially rolled out previously in iOS 7 but has now been expanded to include Google Drive and Dropbox like features in which users are able to back up any file type to a folder which syncs seamlessly between devices – Windows included – bringing along with it a new moniker, iCloud Drive.  The feature initially included a cap of 1000 pictures and there is no indication that this limit is changing for this update. In addition to backing it up, there is also a built-in search feature which is accessible on iOS 8 which should make finding that gorgeous picture of your baby or your hot selfie that much easier.
Siri Listens
iOS 8 also brings along its mandatory updates and enhancements to its built-in digital assistant, Siri. Siri is now able to identify songs and point to you to the iTunes Store to allow you to purchase the track with Shazam song recognition. In addition to this, hot word detection has also been introduced. Similar to the Google Now Launcher for Android, users can now interact with the digital assistant simply by saying "Hey Siri". Similar to the Moto X, the hot word detection feature also works with the screen off. Another enhancement seen in Siri is streaming voice recognition which allows Siri to detect what the user is saying in real time rather than waiting until the user stops and transcribing in bulk.
iMessages
Apple bolsters its iMessages application with better implementation of Group Chats with the ability to name your threads, remove users or yourself and a Do not disturb feature for both individual or group chat threads. Another feature present is the ability to send voice and video messages via iMessages. Voice messages comes with a gesture based control which allows you to record and send messages simply by raising the phone to your ear and bringing it back down.
Mail
The mail application also comes with gesture controls which allow users to mark an email as read using a simple gesture in addition to gaining contextually aware responses like adding an event to a calendar. Multitasking in the mail app is also getting a boost with the user being able to move draft windows to the side to access the inbox. "VP threads" is also introduced allowing users to get notifications based on email threads.
Safari & Spotlight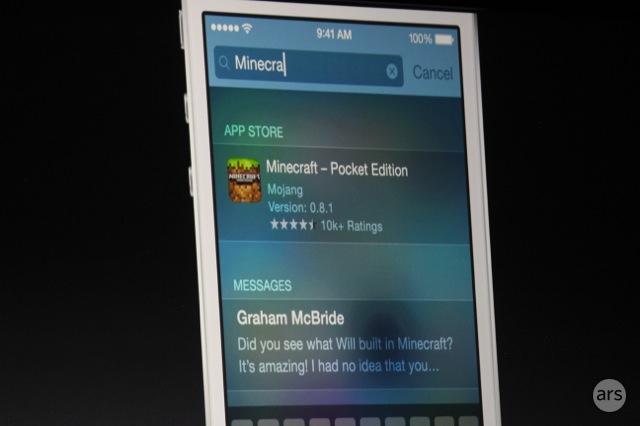 Apple will be expanding the functionality of its spotlight feature to include results from the app store and internet in addition to any items available locally on the phone. Safari on the other hand is getting an iPad update which brings features like bird's eye tab view which was previously exclusive to the iPhone.
Enterprise
Not one to leave its enterprise clients behind, Apple is introducing a new system that installs a user profile before shipping to the client eliminating the need for IT support in that company to do so.  Apple is also increasing iCloud integration with third party file providers. not much information was shared in regards to this.
App Store and Development
Apple is going to introduce an explore tab to the app store in addition to top trending searches and continuous scrolling. Users will also be able to buy app bundles in addition to standalone apps – expect bundles by developers or, just maybe, function.
For developers, the app store will now allow them to upload videos demonstrating their application to users as well as enable them to beta test via the TestFlight feature. Also introduced at WWDC was Apple's new programming language called Swift which it refers to as "Objective-C without the baggage of C". Essentially, what this means is that developers are able to access a simpler coding set which simplifies coding on Apple's Xcode platform bringing performance increases and also increased RC4 encryption speed.  However, the more significant announcement is that Apple is loosening some of its restrictions and opening iOS up to third party applications and allowing them to interact with each other in addition to the operating system. This includes the previously mentioned widgets and keyboard customisation – which will be enabled via an API which will be made available to developers. Touch ID is also going to be made available via API to third party developers.
Availability
Apple announced that iOS 8 will be available to developers immediately at WWDC and to the general public later on in fall 2014. The devices that will be getting update include the iPhone 4s, iPhone 5, iPhone 5c, iPhone 5s, 5th Generation iPod,  iPad 2, iPad with Retina Display, iPad Air, iPad mini and the iPad mini with Retina Display.
Sources: Apple via GigaOM, Ars Technica, TechnoBuffalo